Ni'ihau Shell Lei History

Lei Pūpū History
Origin of the Ni'ihau shell lei is lost in antiquity, but there is ample evidence of its existence when Captain James Cook first arrived in the Hawai'i in 1778. A Ni'ihau shell lei currently located in the British Museum and most likely collected by Cook during one of his several visits to the island of Ni'ihau is made mostly of kahelelani shells.
Photo: Drawing by W. Ellis of Ni`ihau and Lehua in 1778
Ni'ihau Shell Lei – a Part of Ni'ihau Culture for Centuries
Shell lei collected during other excursions to Hawai'i, including those by Captain George Vancouver in the 1790s, are also found in the British Museum, so it is evident that this was a craft that was alive and well long before the arrival of any Western foreigners in Hawai'i.
Although "shell ornaments" described by early visitors were primarily made of seashells, some were also made of land shells which were once common throughout the Islands. In the mid-1800s, hula dancers were described as wearing necklaces of shells as well as flower garlands and feather ornamentation.
Fabricating shell lei was not limited to Ni'ihau, but it was there that this Hawaiian fine folk art flourished, most likely due to the abundance of shells available on the island's beaches and the scarcity of flowers because of the arid climate.
The Queens Treasured Keepsakes from Ni'ihau
In 1887, Queen Kapi'olani had a formal portrait taken in New York on her way to attend Queen Victoria's Jubilee. In the portrait, she wore a multi-strand lei of ivory-colored Ni'ihau shells which complemented her formal Victorian dress. Queen Emma, who showed more appreciation of Hawaiian crafts than any other of the Hawaiian royalty, also wore Ni'ihau shell lei for formal portraits as well as when she was presented to Her Britannic Majesty. It was reported that her lei "created quite a sensation" in London.
It should be noted that during this time the shell lei was adapted to Victorian jewelry styles which included adding a clasp, thus elevating the traditional lei to the status of a piece of fine jewelry which was worn with the most elegant Western dress. It is also interesting to note that later, particularly during the early- and mid-1900s, shell lei were more commonly reserved for occasions when Hawaiian attire was worn.
Photos courtesy of The Hawaiian Historical Society.
Ni'ihau Shell Lei – a Versatile Symbol of Hawaiian Elegance Worn by Women and Men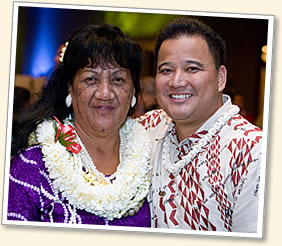 Today, however, the shell lei is returning to its earlier status as a piece of fine jewelry that can be worn with any kind of attire. Dancers at the Merrie Monarch Festival in Hilo frequently sport a variety of exquisite shell lei during the annual hula competition, but shell lei are also seen complementing business dress or other attire in a variety of venues.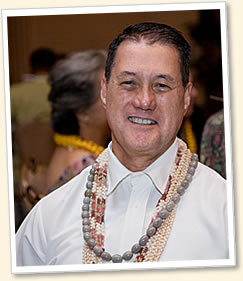 One interesting difference between most other fine jewelry and the Ni'ihau shell lei, however, is that the shell lei is worn by both men and women, particularly here in Hawai'i. Although men are more likely to wear an 'ālīlea lei, which is made of shells which are larger than those used in most other Ni'ihau shell lei, men are also seen sporting a variety of other kinds of lei such as those strung in the poepoe style.
In Hawai'i, the traditional flower lei has withstood the test of time as an expression of aloha and creativity that may be presented to visitors, graduating students, dignitaries, or anyone else on a multitude of special occasions. The use of not only flowers but also ferns and a variety of other materials to make a lei has become an art in itself.
Fine, Rare Shells from a Remote Hawaiian Island Crafted into Exquisite Shell Lei Jewelry
But the shell lei from the mysterious island of Ni'ihau has developed into a fine folk art that is unequaled anywhere in the world, and these lei are found in museums as well as in private collections around the world.
If you visit any of the several sites on the island of Kaua'i which carry the Ni'ihau shell lei, you will discover that some of the owners have been collecting these treasures for over 30 years and have many shell lei that they consider part of their private collection. Although you may admire these lei and appreciate their beauty, they are not for sale to the public.
Support the Artisans and Culture of Ni'ihau by Purchasing Authentic Ni'ihau Shell Lei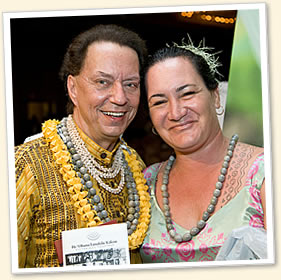 So are you an aficionado who has been collecting Ni'ihau shell lei for many years, or are you a newcomer who has recently become intrigued by this fine folk art from an isolated island with a fascinating history?
Whatever your personal involvement has been, purchasing a shell lei made by an artisan from Ni'ihau using shells gathered on the shores of the Forbidden Island will certainly enrich your appreciation of the culture of this special place. It will also help to perpetuate a fine folk art that provides economic sustenance for a dwindling group of master artisans whose basic lifestyle is undergoing dramatic change as we progress into a new century.